PARTNERSHIPS
Staff is beyond thrilled to announce that we have been awarded not one, but two, $20K grants to enhance our public rights of way with public art! In partnership with the XQ Institute and the City of Oakland, we are funding multiple projects with black artists and muralists, as well as student groups, to beautify our community and share positive messages of equality. Starting today, two murals are going up, one at Buffet Fortuna located at 800 Broadway with Dragon School, and another at 17th Street and Broadway with BAMP, the Bay Area Mural Program. We look forward to sharing pictures with all of you. The second grant was applied for in partnership with Simón Hanukai and Kaimera Productions, an organization whose mission is to use live performance to bring audiences together in dialogue and examine some of the hardest questions our global society faces. The SPACES project will be an artistic collaboration between the cities of Saint-Denis (a suburb of Paris) and Oakland. Although the process of securing this funding through California Humanities has been a multi-year effort, the receipt of the grant couldn't be more timely.

SMALL BUSINESS WEEK
Oakland Small Business Week, #SBWOAK, happening virtually from June 23-26, with a focus on how to make the pivot to digital, draw new customers, and succeed beyond COVID, aligns with the relaxing of county health orders that will allow, starting today, indoor and outdoor retail, as well as outdoor dining, at a reduced capacity to ensure physical distancing. The virtual workshops being offered will help Oakland businesses address their business fundamentals and provide education on policies and business legalities. #SBWOAK is being presented by the Oakland Small Business Task Force, combining the efforts and resources of Charlese Banks' The Town Experience, ICA, The Kapor Center's Oakland Startup Network, and Square. District staff will be participating in the week of events and are proud to support their efforts through digital marketing and promotion.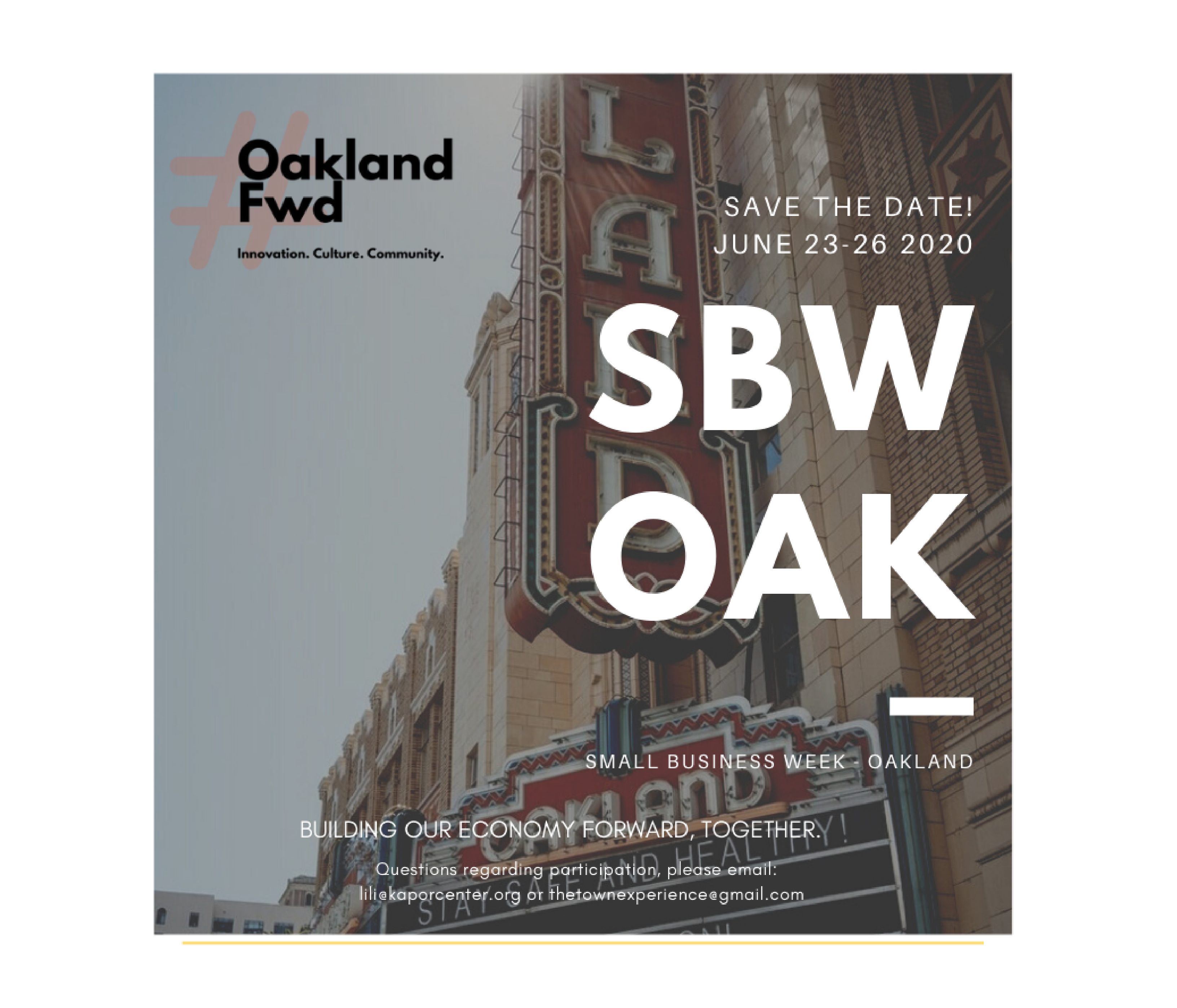 PRESERVING HISTORY
The districts supported the work of Carolyn Johnson of The Black Cultural Zone, Oakland Museum of California, Oakland Art Murmur, and other community organizations in an effort to aid the historic preservation of the murals related to recent protests. The idea is to move the painted barricades to a storage facility for future public use and community activations. If you currently have boards that need to come down and would like to donate your mural barricades please contact district staff for more details.
LOOKING FORWRD
As we begin to shift our focus away from the trials of 2020, and towards the challenges and tremendous opportunities that 2021 promises to bring, we, through strategic budgeting and thoughtful engagement, will prioritize the most pressing issues facing our community (highlighted in blue).
BRILLIANT AT THE BASICS
MENTAL HEALTH & HOMELESSNESS
RETAIL ATTRACTION & RETENTION
SAFETY & HOSPITALITY
NEW RESIDENT ENGAGEMENT
PUBLIC RELATIONS MANAGEMENT
CREATIVE PLACEMAKING & EVENTS
LOOKING FORWRD
BOARD DEVELOPMENT
STRATEGIC PARTNERSHIPS